Sir Harpal Kumar honoured for exceptional contribution at the Charity Awards 2019
Sir Harpal Kumar, who was chief executive of the UK's biggest charity, Cancer Research UK, for 11 years, has been awarded the Daniel Phelan Award for Outstanding Achievement at this year's Charity Awards.
Kumar was presented with his prize at last night's Charity Awards ceremony at the Pavilion at the Tower of London by Cathy Phelan-Watkins, wife of the late Daniel Phelan, founder of the Charity Awards, and director of Civil Society Media.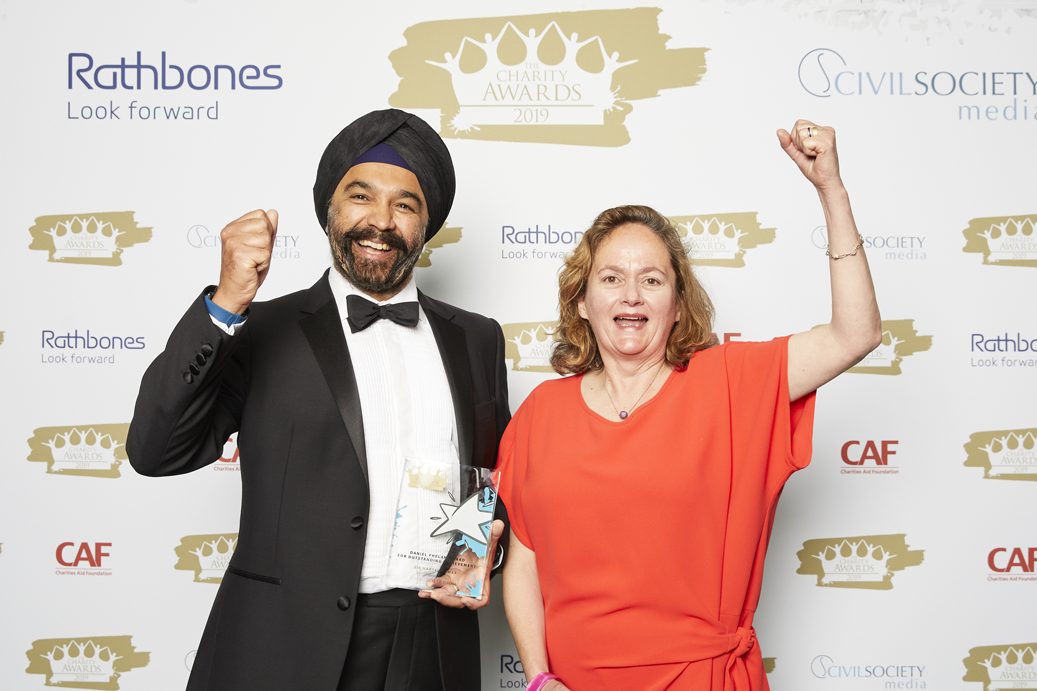 Sir Harpal was recognised for his immense impact on the field of healthcare and particularly cancer, where outcomes for patients improved hugely during his tenure at Cancer Research UK. In fact, his proudest career moment came in 2014, when it was announced that for the first time, more people in the UK were surviving cancer than were dying from it.
Kumar joined CRUK in 2002, just after the merger of Imperial Cancer Research Fund and Cancer Research Campaign. The newly merged organisation was looking for someone to oversee the integration of the two charities' commercial subsidiaries, and Kumar had relevant experience in the private healthcare sector, first as a consultant for McKinsey & Co at the start of his career and later as founder of his own venture capital-backed company manufacturing diagnostic devices for heart failure patients.
Within 18 months he'd become CRUK's chief operating officer and in 2007 was promoted to chief executive, where he stayed for the next 11 years. During that time he transformed the outlook and aspirations of the charity, from an organisation that measured its success by the quality of its science, to an organisation that stopped people dying from cancer. Both the charity and the whole field of cancer research changed phenomenally over this time. In 2015 he was commissioned by Prime Minister David Cameron to lead the new cancer strategy for the NHS – the first time the government had ever gone outside the public sector to do this.
He was also a trustee of the Francis Crick Institute, the Institute of Cancer Research and chair of the National Cancer Research Institute. And he was knighted in 2016 for services to cancer research.
Joining CRUK was Kumar's second role in the charity sector; his first was with the Papworth Trust, which had been a pro bono client of his while at McKinsey's. He devised a turnaround plan for the disability charity and presented his recommendations to the chair, only to be called a week later and asked to join the Trust as chief executive to implement those recommendations. So his first role in the charity sector, at the age of 27, was heading up a 76-year-old charity with multi-million pound turnover and more than 500 staff.
Now, as head of innovation for Europe, the Middle East and Africa at Johnson & Johnson, the world's biggest healthcare company, Sir Harpal has the opportunity to have a major impact on all kinds of diseases.
Kumar collected his award alongside ten category winners and the Overall Winner, the Birmingham Museums Trust, at a black-tie ceremony hosted by broadcaster and Church of England priest, the Rev Richard Coles.
'Talk about the difference we make'
Accepting the Award Kumar said: "It really is a very special recognition for all that we have achieved. I say we very deliberately because although I'm the recipient of this award, none of what I have done or achieved or had the opportunity to witness could possibly have been achieved without an outstandingly talented group of people both staff and volunteers in both of the charities in which I have worked."
He called on the sector to talk more about the difference charities make.
He said leaders have an "obligation" to "talk more about our progress".
"Without doubt the highlight of my career at Cancer Research UK was the day in 2014 I was able to stand in front of the world's media and say that for the first time in history more people will survive cancer than dying from it and moreover that our progress was accelerating."
Kumar also said people in the sector are "too reticent to talk about our successes."
"We concentrate on our need. Our need for funds, our need for awareness, our need for political support. Talking about our progress isn't about hubris or arrogance or hype. But if we don't tell the public what we are achieving with their hard earned donations why should we expect that they will continue to invest in us. My view is that we have a duty to share the progress we are making."
He added that sharing progress could make charities more trusted, not less.
"It makes our supporters more likely to give to us than less. People like to invest in success. So let's be proud of what we are achieving and talk more about it."
Cathy Phelan-Watkins said: "It would not be an exaggeration to describe Sir Harpal Kumar as a renaissance man, such are the depth and breadth of the talents he has demonstrated through his highly distinguished career in the charity sector.
"His phenomenal success, particularly through his tenure as chief executive of CRUK, can best be attributed to a unique fusion of skill sets which have served to propel groundbreaking innovations into accepted practice. Significant ingredients in the mix would have to include: his ability to galvanise stakeholders from fundraisers to government officials, his unflinching focus on problem solving, and last but not least, his steely determination to get the job done. All of which have resulted in greatly improved outcomes for cancer patients.
"Harpal Kumar personifies all that is powerful, exciting and effective in the charity sector. Much can be learnt from his leadership."
The Charity Awards, organised by Civil Society Media, is the longest-running and most prestigious awards scheme in the charity sector. Now in its 20th year, the programme celebrates excellence in charity leadership and management, with prizes awarded in ten categories covering all types of charitable activity. Rathbone Investment Management is the Overall Awards Partner.
The Daniel Phelan Award for Outstanding Achievement is the only individual award given out, and the recipient is selected by Civil Society Media and approved by the judging panel. Sir Harpal Kumar joins an illustrious list of winners, including Sir Stuart Etherington, Sir Roger Singleton, Baroness Jill Pitkeathley, Julia Unwin and Sir Nicholas Young.
Daniel Phelan founded the Charity Awards in 2000. After he died in 2015, the organisers at Civil Society Media changed the name of the Outstanding Achievement Award to honour his memory.