When we won a Charity Award I burst into tears
Entering the Charity Awards allowed Combat Stress to identify what it did well, says Karen Henderson.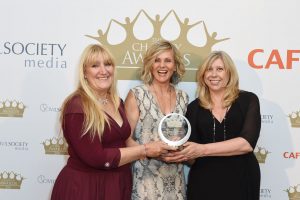 The Charity Awards is a huge part of the calendar for all organisations operating in the third sector – carrying enormous prestige and presenting an opportunity for the hard work of charities to be recognised nationally.
Everyone at Combat Stress knows that our unique six-week Intensive Treatment Programme (ITP) has a positive impact on the lives of veterans living with Post Traumatic Stress Disorder. Research published in the British Medical Journal last year found 87 per cent of ex-servicemen and women who completed the programme had experienced significant improvements in their symptoms. So we decided to enter the Charity Awards to give due recognition to the incredible dedication of the Combat Stress teams who deliver this life-changing treatment.
Combat Stress and Linda BarkerThe application process was time-consuming, but it allowed us to really focus and assess the ITP – what was working, why it was working, and anywhere that we could improve. That time investment was thoroughly worthwhile, especially when we received the thrilling news that we had been shortlisted in the Healthcare and Medical Research category and would attend the Charity Awards.
It was incredibly nerve-wracking awaiting the results. I felt like a finalist on the X Factor. I was playing the moment through in my head as the results were read out, and as soon as Combat Stress was announced as the winner I burst into tears.
The pride I felt was overwhelming. I know how hard all our teams work to make this programme a success for the people who so desperately need it, and to have that acknowledged in front of such a great audience was incredible. It was a moment and an event that I will never forget.
It was so lovely to be able to report back to our colleagues that we'd won. We were up against some fantastic charities, which made our achievement even more special.
The impact on our work of winning the award has been fabulous. That external recognition and prestige has given a boost to our fundraising, as well as being something that we can proudly claim when communicating with our supporters and veterans. It also helps with recruitment, helping us to attract the best clinical staff to deliver our treatment programmes.
I would thoroughly recommend any charity that can prove they are making a difference to enter the awards – the endorsement, and the memories, will make it all worthwhile!
Karen Henderson is senior occupational therapist at Combat Stress