Breaking Barriers
Supporting London-based refugees into employment
"In Zambia, the pace of life is slower and the culture submissive. British working culture is very fast-paced. What people take for granted – making calls, answering emails and talking to clients – I had to re-learn. It was a genuine culture shock."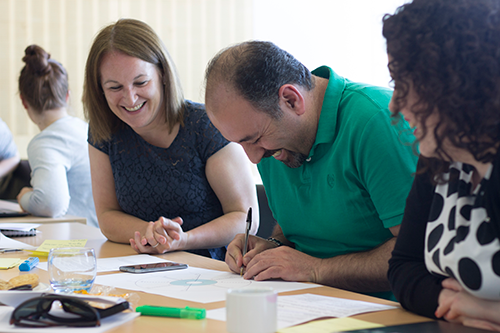 An estimated 7,000 new refugees settle in London every year, yet holding down regular employment can be a major challenge. Even once refugees have passed through the asylum process, the unemployment rate is estimated to be as high as 70%, and many of those that have managed to find work are either underemployed or overqualified.
Matthew Powell was inspired to set up Breaking Barriers in 2015 after his master's degree research highlighted the lack of employment support for refugees in the UK. He identified that insufficient English-language skills, a lack of UK work experience and a lack of understanding of UK employment culture are just some of the reasons why refugees struggle in the job market.
Powell was convinced that the private sector could do more to offer support. Following extensive research, he designed a work placement programme that was a success both for the refugee client and for the corporate partner. From there, the charity grew.
Breaking Barriers now operates three delivery centres across the capital. Its services include one-to-one employment advice from specialist staff and volunteers, education and training in English, IT and customer service, and paid work placements and job opportunities through corporate partners.
The results are tangible. In the 2018-19 financial year, the charity supported 572 people from refugee backgrounds and developed programmes with more than 20 businesses. Nearly two-fifths of its clients secured employment, volunteering or education, and 83% of those who used the charity's advice programme said it had increased their chances of finding a job.
Charity Awards judge Andy Pitt described Breaking Barriers as "a really gritty project addressing a really difficult problem".
He said: "There's such a lot of good practice that's come out of it, for example, they produced the UK employer's guide to hiring refugees. It's genuinely innovative as well as being replicable and scalable."
CC Reg no. 1161901