Fleetwood Beach Wheelchairs
Helping disabled people to go on the beach
People with disabilities cannot often use beaches, the sea and other public spaces. Fleetwood Beach Wheelchairs (FBW) provides free beach wheelchairs and equipment facilitating access to Fleetwood and surrounding beaches, recreation venues and other public places in the Lancashire town, which cannot be reached with ordinary wheelchairs.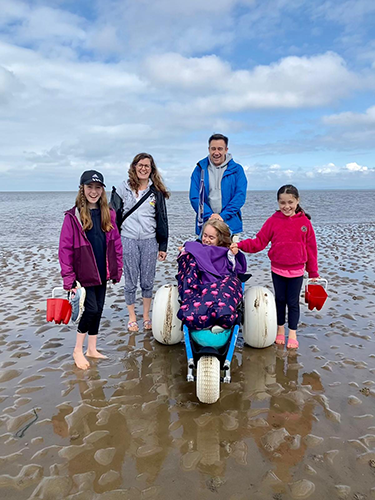 After speaking to the local Rotary Club, FBW set up a small working party to address the issue. It sought an initial grant of £5,000 and the donation of a beach wheelchair from the Haldane Trust and became a charitable incorporated organisation in February 2020.
The goal was to obtain premises and operate three beach wheelchairs within three years, which was achieved by September 2020. While operations were almost immediately stalled by the Covid outbreak, the charity has run a restricted service since March 2021, serving 372 clients in a year. FBW now has 10 beach wheelchairs in five different designs, plus a hoist and other specialist equipment.
For many visitors, it was the first time they had been able to go onto the beach for years, and for some, ever. Feedback shows a rating of 4.75 out of five for the beach wheelchair and 4.82 for the service overall.
One service user said: "You certainly made our day last week. I have waited 14 years to get my adult son on a beach. Even on the way to Fleetwood I thought in my mind it would not happen for some reason, but it did. Your very friendly supportive staff, who work voluntarily, are amazing and you're making dreams happen. Be proud."
FBW has been approached by many places across the UK to provide advice on setting up similar schemes and has produced a guidance document for others.
Charity Awards judge Paul Streets said: "I liked this; it's fun, it's volunteer-led, and it's cheap as chips. It's a really nice thing to do as people who are disabled in wheelchairs never get to go on the beach."
Martin Edwards added that it was "simple, effective and innovative in its own way".
Sarah Ellis described it as a "contemporaneous and joyful project".
fleetwoodbeachwheelchairs.co.uk
CC Reg no. 1187870