Grantmaking and funding 2018 winners: Family Fund
In 2012, the government took the decision to devolve the Social Fund, which gives care grants to vulnerable people, to local authorities across the UK.
But giving grants to families is not an especially easy business, and many of the local authorities lacked the in-house expertise and contacts to procure what they needed.
Family Fund, a charity which supports the families of disabled and seriously ill children, soon realised they could help, and set up Family Fund Business Services, to provide fulfilment services to local grant-givers.
The value of the programme was immediately recognised. Central government involved the charity in a series of roadshows to showcase how essential support can be delivered in local communities, and since that point it has won contracts with the Welsh government and 27 local authorities. Its model has now been extended to housing associations and charities, and it has 12 charity customers.
All these customers pay fees to the trading subsidiary, meaning that about £600,000 a year is Gift Aided back into the charity, and used to make more grants to its own vulnerable beneficiaries.
The project has grown fast. It has established new contracts with suppliers and extended its reach, and established an online grant fulfilment platform, which allows it to distribute grants in the form of cash, goods, or payment cards to its customers' beneficiaries.
The model has been a success for all involved. In the first year, the subsidiary paid back the start-up costs five times over, and every year since it has provided significant returns, leading to more funds for disabled and ill children. It has delivered around a million grant items, and has saved around £1m in rebates for those using its services, allowing them to spend more on their own grantees.
CC reg no: 1053866
Islington Giving is a collaboration of residents, businesses, funders and voluntary organisations tackling inequality. It has raised more than £6m to support individuals in the borough, and brought more than 5,000 residents together to volunteer. It has awarded grants to 74 organisations running 158 projects, and helped 20,000 people. The Cripplegate Foundation has covered all running costs. One of the place-based model's key strengths is its principle of co-design, with residents driving the conversation about what is provided, rather than having services provided for them. Another is the fact that it has involved people across the borough, as well as public and private sector bodies, in conversations about disadvantage.
Visit their website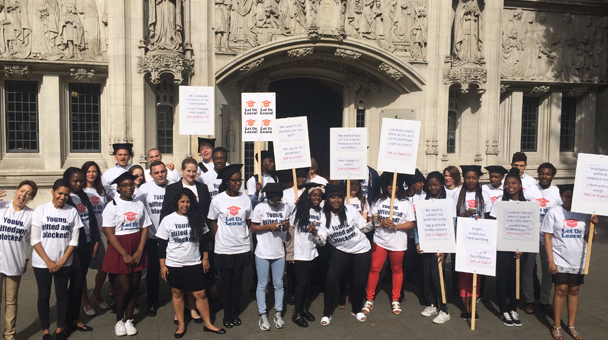 Trust for London, while funding legal work with migrants, found that the government was often guilty of breaking its own law. Despite public agencies having a duty to consider the best interests of children, children were often differently if their parents did not have settled immigration status. As a result, young people's rights to basic needs – subsistence, stability, education – were being illegally denied. As a result, it established the Strategic Legal Fund for Vulnerable Young Migrants, inheriting work done by the Diana Princess of Wales Memorial Foundation. Using its own cash and funding from other foundations, it made small grants for strategic legal action on key issues where children in the UK faced discrimination as a result of their migration status.
Visit their website