Scottish Professional Football League Trust
Using football club loyalty to improve men's health
The Scottish Professional Football League Trust – the charity of Scotland's 42 professional football clubs – works to promote, support, fund and administer activities which help meet identified social needs for people in Scotland.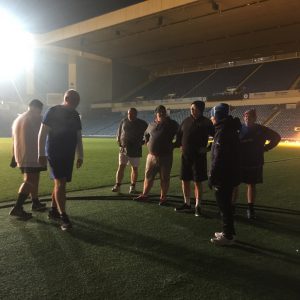 The charity wanted to tackle the issue of male obesity – an area presenting an increased challenge to public health, because relatively few men were willing to take part in weight loss initiatives.
The charity recognised that in football clubs it had an asset it could use to buck this trend, and launched Football Fans in Training (FFIT) – a 12-week programme intended to improve fans' health and wellbeing while providing them with a behind-the-scenes look at their local club.
The initiative, funded by the Scottish government, is free and has run for five seasons at all Scottish clubs, as well as a growing number of English ones. Sessions are spilt between classroom based workshops and physical activity training delivered by coaches from clubs. It is designed to work with rather than against prevailing understandings of masculinity, and has been successful in producing lasting change.
Most participants lost significant amounts of weight, and nearly 40 per cent of men who participated maintained a weight loss of at least 5 per cent of their original body weight a full 12 months later – an outcome associated with lower risk of heart disease, diabetes, stroke, cancer and other health problems.
OSCR reg no: SC369633