Barbara Frost
The accidental aid-worker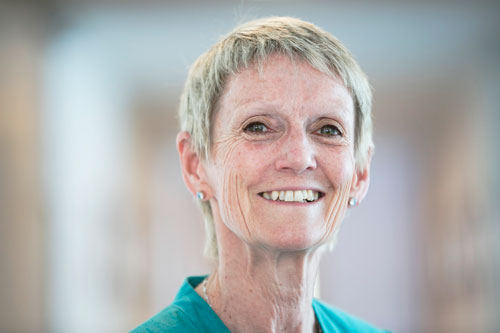 Since Barbara Frost joined WaterAid as chief executive in September 2005, the global NGO has increased its coverage from 15 countries in Asia and Africa to 37 and more than trebled its income from £27m a year to £83m. Now it has just launched an ambitious new five-year strategy that aims to ensure that universal access to safe water and sanitation is included in the UN Sustainable Development Goals, the overarching aim of which is to eradicate extreme poverty worldwide by 2030.
Frost talks with obvious passion about the charity and its objectives to bring the basic human rights of safe water, sanitation and hygiene to everyone everywhere within 15 years – yet she had no great ambition to work in overseas development, in fact she fell into the sector almost by accident.  She'd been living in Australia for about 15 years, a strong sense of wanderlust having driven her abroad straight after university, and for seven of those years she'd lived in an alternative therapeutic and conservation community – "kind of a commune, though we didn't call it that, we called it living co-operatively".  She'd worked in a variety of interesting jobs at government and quango organisations, when a series of encounters and "weird coincidences" led her to apply for a job with Community Aid Abroad – now Oxfam Australia – in Mozambique.
Even when she was offered the post, she very nearly turned it down.  Mozambique was wracked by civil war at the time, and her predecessor in the role told her his family had decided to leave because now that they had two small kids, they couldn't run as fast to escape from attacks.  Frost chewed on the offer over a weekend, and almost all her friends said she would be mad to take it.  But one, a travel journalist, urged her to go for it.  "It's such a fascinating country, and it's only for a year – what have you got to lose?" he said.  So she took the job and a few weeks later found herself in the capital Maputo.
"It was the most difficult experience of my life," she recalls wryly. "I spoke no Portuguese, I had no experience of international development, and it was a very small organisation that didn't have a lot of support in Maputo.  For a few months I wondered what I'd done." But slowly she adjusted, things got easier, and eventually she finished the task she'd been charged with – finding a Mozambiquan to take over her job.
She moved then to Save the Children in Mozambique, and then to ActionAid, spending over four years in Mozambique altogether.  "It was extremely interesting and I learnt a huge amount.  Then I moved to Malawi with ActionAid, which was completely different. Mozambique had been a socialist regime, very dynamic with lots of different cultures and we'd had a lot of support, the ANC operated from there during the end of apartheid and Nelson Mandela came to visit after he was released from prison.  People told me Malawi would be more oppressed because of the Banda regime, but also much more stable.  I'd been in Malawi two weeks and suddenly there was a small coup, the army bombed the youth headquarters of the president and that led to democratic elections. I was an election monitor at the first democratic elections in Malawi, which was fascinating."
After three years in Malawi she applied for promotion to country representative but was passed over for a more experienced candidate.  It was a huge disappointment at the time, she said, but a decision that she later came to be very grateful for when she landed her next job, at Action on Disability and Development (ADD).  She'd met someone on the beach at Lake Malawi who told her about ADD, and she was intrigued by the idea of an organisation that married both the disability rights work that she'd been doing in Australia, with the community development work she'd been doing in Africa. A few weeks later she saw a job ad for the ADD chief executive role and phoned a VSO colleague to talk about it. In another fortuitous coincidence, he had just been rifling through books at Lilongwe market and had bought a book written by ADD and Oxfam about the philosophy of disability rights in development.  He gave it to her to read.  So when she was called to interview for the job, she was incredibly well-informed and, not surprisingly, got it.
So even though she still considered herself an Australian and had always vowed never to return to the UK, Frost found herself back in Frome, Somerset, just five miles from where she'd grown up. At the time ADD was working in 12 countries in Africa and Asia, helping to mobilise disabled people to speak up for their rights. "Disabled people are among the most marginalised, the most excluded, the poorest people in most communities, so it was very humbling, very moving, very important work actually – that whole rights-based approach for disabled people, rather than just being around medical care, is really strong. Some of the advocates I met were so inspiring, it was a terrific job."
Acevo board member
Returning to the UK in 1996 after 23 years away meant she lacked much of a support network, so she got involved with Acevo.  Before long, then-chair Geraldine Peacock convinced her to join the board, and soon she was vice chair.  She led some work with New Philanthropy Capital on a project around the importance of core costs, trying to persuade charities to be upfront about their overheads and to sell that message effectively to funders – "but I don't think it made a material difference to how things are today.  It did for a while but the issue needs constant leadership. I feel very disappointed about the whole thing, I think we don't do nearly well enough as a sector on this.  We're apt to be complicit with this idea that we can run charities on fresh air. We almost compete on minimising our overheads, rather than saying overheads are not bad things – in fact they're necessary for good leadership, management and governance."
After nearly ten years at ADD, where she admits she led "a wonderful life", a colleague mentioned that the WaterAid CEO was leaving.  "I assumed they wanted another engineer in the post," Frost says, "but I was told that wasn't the case, they wanted someone to lead on women's issues, girls' empowerment, people's rights and community mobilisation.  On that basis I was very interested – but I knew I was coming down with a terrible case of malaria and had to get my application in within a couple of days while I could still function.  So I was absolutely delighted to be offered the job."
'We don't take ourselves too seriously'
The day I interview Barbara happens to be in My WaterAid Week, and the UK staff are gathered in the kitchen for a coffee morning, one of 34 taking place in WaterAid offices around the world that day in different time zones.  People have baked and decorated a variety of cakes in the shape of toilets, the images of which will be shared globally on the charity's intranet.
Barbara enthuses: "What I love about WaterAid is that while we are absolutely passionately committed to doing everything we can in terms of poverty eradication and human rights, water and sanitation, we don't take ourselves too seriously.   We think change can often happen through humour, so every year we try and do stuff on World Toilet Day, and our 'Louie the laughing loo' made the Today programme, when our serious press releases about women's issues were just ignored.
"Our latest release is around 'If men had periods', which sounds a bit like an old feminist thing but it's just so funny.  It will go out just before Menstrual Hygiene Management Day, which is a big day for WaterAid!  It's talking about how if men had periods – imagine; they would celebrate the day they came on, they'd have a big initiation ceremony when their first period happened, there would be no white sportswear, there would be no taboo.  It's true!
"We are good at using humour to draw attention to a serious fact, that girls are dropping out of school because they have nowhere to wash and change when they are menstruating and it's a really taboo subject."
It's not easy to get Barbara off the subject of WaterAid and the issues it campaigns on, and even when I try to guide her back to talking about herself, she insists: "It's not my outstanding achievement, it's the organisations I've worked for.
"ADD was all about the power of the disability struggle, and the difficulties that disabled people face, and that really gave me the strength to do as much as I could for them.  And WaterAid – just the story of what it's like if you can't turn on a tap, you can't get a drink of water, if you're a woman and you're on your period and there's no toilet.  Two and a half billion people in this world don't have a toilet, it's amazing, it's a huge crisis actually. There's lack of proper sewage disposal and sanitation facilities, there's not nearly enough investment in infrastructure – there's an enormous amount of work that needs to go on. And it's not a sexy topic – opening a new sewage works just doesn't attract the same political capital as a new school or hospital."
To this day WaterAid remains true to its founding ethos, set by its founding director David Collett, so that it is not operational, it invests in local organisations to deliver services, it works with governments, and it doesn't go places where it's not welcome. "We're very humble in our approach, we push other partners in front of us," Frost says.
"I've always been attracted to organisations working on stuff around people's rights, helping communities hold people to account, and raise their voices and understand what they can do to make change happen.
"But I certainly think you get the best results if people lighten up, and if we all think about how we get the best out of others.  I'm very keen that we think about what will get the best results in our campaigning.  That means thinking not just about the message that we want to get across, but what is heard by the person sitting across the table, and what will make them feel good about doing something to make change happen.
"That's usually not beating someone around the head and making them feel guilty, but coming up with something that will make them be seen in a positive light, or making them think it's their idea.
"And I always feel we need to be humble.  When we do development work in other people's countries, we work with other organisations and we employ local people, because if change is to happen effectively the people who can do that are those that know the context, the politics and 'how things work round here'."
Andrew Hind, chair of the Charity Awards judges, who first met Barbara when they were working at ActionAid, says she is one of the sector's leaders who has "never chased her own profile" and that she "personifies the values of the organisations she works for".  WaterAid's values, as listed on its website, are respect, accountability, courage, collaboration, innovation, and integrity.
Barbara is the first to admit that she never had any grand career plan.  "I took opportunities and I took risks, and I wasn't afraid to try different things.  Was I lucky?  Absolutely – though I think I put myself in positions where luck could happen."
The Frost years
1970 – 1972 University of Keele, BA Hons course, psychology and social sciences
1973 – 1979 Administrative positions with Australian Commonwealth
Public Service and the Perth Hospital for Women
1980 – 1983 Personal assistant to Minister for Consumer Affairs, NSW
1983 – 1986 Neighbourhood centre coordinator, Bellingen, NSW
1986 – 1989 State manager of service development, Home Care Service, NSW
1989 – 1991 Country director, Community Aid Abroad, (Oxfam Australia), Mozambique
1991 – 1992 Assistant head of Southern Africa Regional Office, Save the
Children Fund (UK), Maputo
1992 – 1993 Senior programme officer, ActionAid, Mozambique
1993 – 1996 Deputy director then acting director, ActionAid, Malawi
1996 – 2005 Chief executive, Action on Disability and Development, Somerset
1998 – 2008 Trustee and vice chair, Acevo
2003 – 2006 Trustee of the Development School, an NGO based in the Balkans
2005 – now Chief Executive, WaterAid
2011 Awarded two honorary doctorates from Exeter and Cranfield Universities