Rathbones Covid-19 Response Award 2021 winners: Just a Drop Appeal
Disseminated handwashing and hygiene advice to curb the spread of Covid-19 across three continents
Handwashing with soap is the first line of defence against Covid-19, but this is a tough message to sell to people that struggle to access clean water.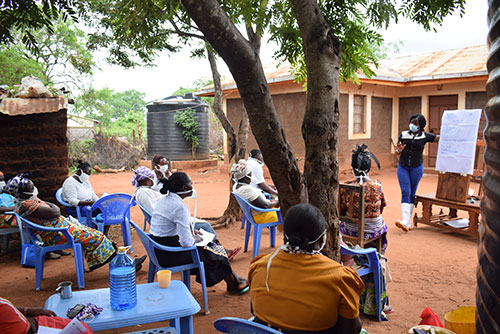 If people are forced to walk long distances to collect water, social distancing is almost impossible as they are usually surrounded by others making the same journey. And if you've carried that precious water several miles, the last thing you want to use it for is handwashing.
Just a Drop, which works across Asia, Africa and Latin America to bring sustainable safe water, sanitation and hygiene projects to communities, knew it had to pull together a global programme to overcome this obstacle and save lives. But it was facing its own challenges as a result of coronavirus – many of its corporate funders were travel companies, themselves badly affected by the pandemic and cutting their support, and the charity's board had already reduced staff hours to 80% and frozen recruitment.
The charity decided to focus its activity on three areas: handwashing, distribution of hygiene messages, and buying and rolling out personal protective equipment (PPE).
It expanded the number of soap-making workshops that it ran within communities and provided health centres with more handwashing stations.
It developed and distributed information about the virus and ways to curb its spread in local languages, and bought motorcycles and megaphones to increase dissemination of these messages.
And it purchased PPE to shield its local partners and teams working on the frontline.
All this was only made possible by the tenacity of the charity's fundraisers, who realised they had to rapidly grow the reach of its online fundraising. Each fundraiser researched how they could adapt their activity and then found mentors to help them do so, among their trustees and other volunteers.
They targeted new corporate partners that had not been as badly affected by the pandemic, such as soap companies and menstrual hygiene companies, and successfully secured nine new partnerships. They raised over £15,000 from trusts. They developed three public-facing fundraising campaigns. And they entered and won, an industry-wide competition for £10,000 worth of support from a major digital agency to boost donor acquisition.
As a result of these efforts, Just A Drop's income for 2020 ended higher than 2019's, and it accumulated record unrestricted reserves.
The charity says it reached 328,000 people across three continents with safe water and sanitation during the year.
Alice Mellar, partnerships and events manager, said: "We have increased the scope and scale of our work in the face of one of the world's biggest challenges.
"At a cost of just £2.21 per person, we enabled communities worldwide to be more resilient in the face of coronavirus and we saved lives, all whilst continuing our ongoing programming."
The charity also realised the benefits of collaboration, teaming up with five other water and sanitation charities to support communities through the pandemic, and says these connections will endure beyond Covid as they seek more ways to tackle the global water crisis.
Covid-19 Response Award judge Tania Mason said: "This was a pragmatic response from a small charity whose beneficiaries were at high risk from the virus. They were highly collaborative and worked hard to diversify their income when their usual funding sources were cut off, meaning they could increase their impact and are now better set up for the future. It was impressive work by a tiny staff team of five."
CC Reg no. 1100505