Smallwood Trust
Initiating Community Grant Partnerships to tackle gendered poverty
Smallwood Trust's Community Grant Partnerships programme is a strategic initiative to shift power for grant decisions to local community groups, most of which are led by and for women. Smallwood also provides funding, support and an operational toolkit to help the organisations to increase their impact.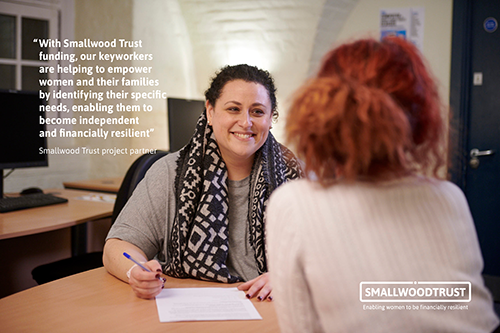 The Covid pandemic underlined the fact that UK poverty is gendered. The sectors that suffered the most during lockdowns were those that were staffed mainly by women, and women were also more likely to carry the responsibility for home-schooling and care of relatives, reducing their own earning power.
Demand for Smallwood's hardship funds grew three-fold over the pandemic, but thanks to burgeoning bureaucracy and financial checks, it had become increasingly difficult for women most at risk of poverty to access these funds.
The board decided to address this strategically, by supporting the fragile ecosystem of local women's organisations and distributing small hardship grants of £500-£700 to individual women.
Smallwood provides the block grant funds to the community grant partner, including 20% for overheads, along with evaluation support and an operational toolkit. The grant partners deliver support services in areas including housing, domestic abuse, mental health, criminal justice and employability.
The programme aimed to provide targeted support for those women most at risk of poverty, including women of colour, women with disabilities, young women and women with no recourse to public funds. The model was piloted with two community grant partners in 2018 and three in 2019, expanding to 29 across England by April 2022. Some 27% are BAME-led groups.
Since 2018, £2m has been devolved to Community Grant Partnerships. In 2020, Smallwood's funding supported 19,000 women to pay their rent, buy essential items such as food, sanitary products and children's clothing, and top up their mobile phone accounts. This was a 600% increase on 2019 when just 2,600 women received support.
Awards judge Sharika Sharma said that by partnering with groups that are rooted in communities, Smallwood ensures that its funding is having the greatest impact.
Judge Shane Ryan commended the Trust's payment of overhead costs, saying that this shows foresight and a real understanding of the sector. "It's a very small team doing something tangible and longer-term," he said. "It is flexible, they're thinking differently."
Yvonne Field liked the holistic model of direct grants combined with support services, plus the fact that they were deliberately targeting Black and Asian minoritised organisations to reach more women.
Paul Streets added: "This organisation is 135 years old, and it is not doing the thing that most others do of just dishing out the dosh – it's really thinking about how it can do so intelligently, and it's very evidence-based."
CC Reg no. 205798