St John Ambulance
Rollout of the NHS COVID-19 vaccination programme in England
St John Ambulance has long provided support to the NHS, but its work in the Covid-19 vaccination programme was perhaps the biggest support project it has ever embarked on.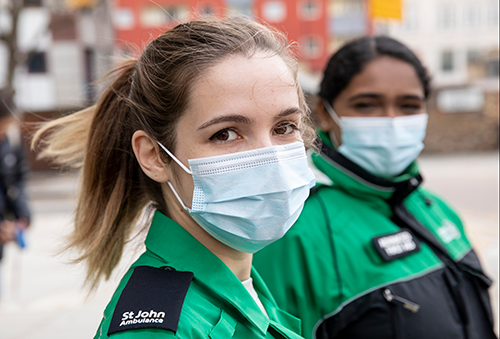 It recruited, trained and deployed almost 30,000 volunteers to ensure the success of the NHS Covid-19 vaccination programme in England; the only country in the world to use lay volunteers as vaccinators. Across more than a million hours the volunteers administered millions of jabs, saving many thousands of lives.
At the start of the pandemic, St John Ambulance had extended its standard "winter pressures" contract with the NHS beyond emergency ambulance support to encompass care in hospitals (including Nightingale facilities) and other healthcare settings.
As the creation of vaccines became a reality, NHS England and Improvement (NHSEI) asked St John to develop plans to recruit, train and deploy up to 30,500 vaccination volunteers. Initial expectations were that volunteers would be drawn from people who stepped forward to become NHS Volunteer Responders via the Royal Voluntary Service (RVS), with the first of them ready by March 2021.
But the development of vaccines progressed quicker than expected and the target was brought forward to January 2021. Alongside the planned recruitment, the charity accelerated contingency plans to reach out to 250,000 training delegates who had learned first aid with St John in 2019-20. More than 12,500 people from this group became vaccination volunteers – almost half the eventual total.
St John Ambulance's focus on the vaccination programme changed the shape and size of the charity, with many volunteers and employees engaged in the programme full-time from September 2020 onwards. Covid-19 vaccination ultimately accounted for almost three-quarters of operational activity in 2021.
In 2022, St John is recruiting a second wave of up to 6,000 additional volunteers to secure a long-term workforce of 12,000 active vaccinators, ready to support the NHS with further booster jabs.
Charity Awards judge Chris Sherwood praised the fact that the charity is now looking at how to maintain the volunteering momentum within the NHS, and has helped to shape the Future of Volunteering Coalition with RVS and the Scouts in an effort to secure a lasting impact.
CC Reg no. 1077265