Surviving Economic Abuse
Got economic abuse legally recognised as a form of domestic abuse
Surviving Economic Abuse's campaign aimed to get economic abuse legally recognised as a form of coercive and controlling behaviour and included within the UK's new Domestic Abuse Bill.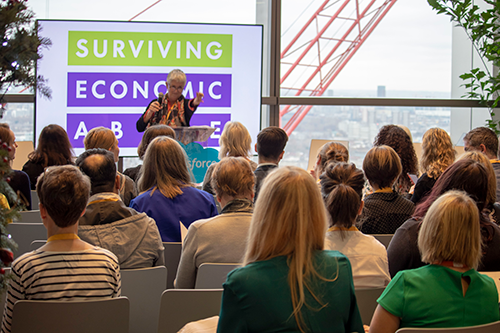 Although society and the law recognised domestic violence and physical abuse, control, exploitation and sabotage of a partner's resources, which can cause economic instability and dependence, was also a serious problem for many victims of domestic abuse.
But the government has historically only recognised financial abuse, not economic abuse more generally.
Surviving Economic Abuse was launched as soon as it was announced that a new law on domestic abuse was to be written. The charity lobbied the government to broaden the policy definition in order to establish a framework to support victims and hold abusers to account. It organised a roundtable of 18 economic abuse survivors at the Home Office as part of the consultation process on the bill and provided expert knowledge. It also worked to raise the profile of the issue in the media.
Now it is understood that abusers interfere with their victims' lives in more ways than controlling or withholding money. They can also limit access to economic resources such as housing, transport and food, with lifelong implications.
The draft Domestic Abuse Bill, published in January 2019, provides a statutory government definition of domestic abuse which recognises and defines economic abuse for the first time. And at the same time as the draft bill was published, the Home Office announced that it was investing £500,000 in frontline work on economic abuse.
Awards judge Richard Hawkes described the campaign as "really edgy and well thought through", and said it showed that even a very small organisation could raise the profile of an issue and achieve success. Danielle Walker Palmour added that the charity had shone a spotlight on a topic that was not well understood previously, and had conducted a "great campaign on not very much".
CC reg no: 1173256