The Nelson Trust
Empowering women to exit street sex working
In 2013, keyworkers at the Nelson Trust were working with women in Gloucester and Swindon with multiple and complex disadvantage, such as sex working, homelessness, and substance addiction. This work led the Trust to set up the Sex Worker Outreach Project (SWOP) to improve the safety of these women and support them to exit street sex working, and remove the stigma and shame women experience even after leaving.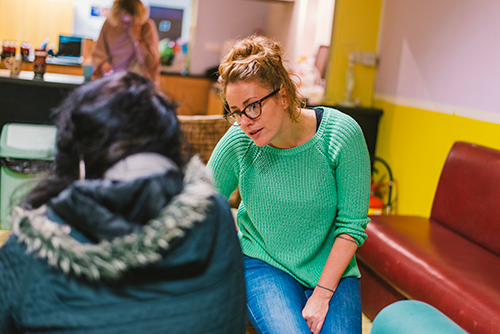 The Trust identified more than 100 women street sex working in Gloucestershire and Wiltshire, and a census circulated by the charity found that a third of them were sexually exploited before they turned 16. Nearly two-thirds had encountered street-based violence and fewer than half practiced safe sex.
Drop-in centres run by the Trust at a discreet location offer sexual health services, HIV testing, GP referral and drug and alcohol abuse support. Each woman who engages with the programme is supported by a keyworker and a tailored one-to-one support plan is devised.
Between September 2017 and August 2018, 89 women improved their housing situation; 63 took steps to improve their personal safety, 58 increased their engagement with substance abuse services and 10 were supported to report violent crimes to the police.
Forty women were supported to exit sex working.
The cost per woman helped by the service is £2,340. Overall, the Nelson Trust estimates that SWOP saves the public purse £1.6m per woman, in health, housing and criminal justice interventions. The Trust has also built strong partnerships with local police forces and other agencies, and educated the local media about responsible reporting on sexual violence. It also proactively shares its learnings with other organisations across the country.
Charity Awards judge Danielle Walker-Palmour said the Trust was doing "transformational work on a very deep and personal level".
Cathy Phelan-Watkins praised the trauma-informed approach adopted by the charity and said the project was a "fantastic example of lived-experience leadership".
Ruth Davison said it was a strong application. "They had a clear theory of change, very detailed tracking and it was highly cost-effective."
CC reg no: 1056672